Jaltest Software multibrand diagnosis software
NEW UPDATE JALTEST DIAGNOSTICS 22.1 : Diagnosis Software. Capable of performing manual diagnosis, of measuring values, actuations, visualizing the ECU data, calibrating and more. Get in touch for more info we can provide shipments whole middle East (Algeria, Bahrain, Egypt, Iran, Iraq, Israel, Jordan, Kuwait, Lebanon, Libya, Morocco, Oman, Palestine, Qatar, Saudi Arabia, Syria, Tunisia, Turkey, United Arab Emirates, and Yemen)!Our Store room Located in Dubai-UAE.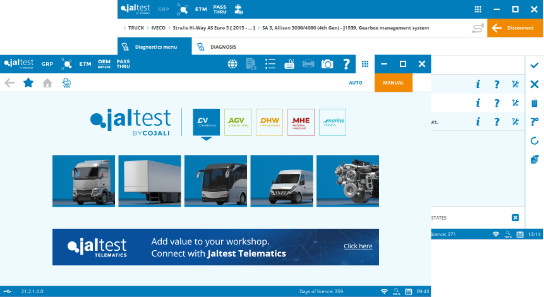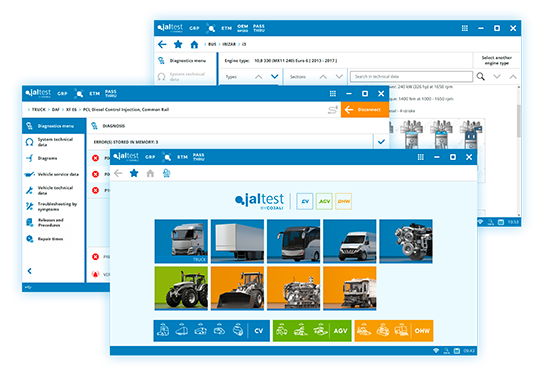 The new software version Jaltest 22.1 once again offers more improvements and innovations that consolidate this tool as a benchmark in multi-brand diagnosis for commercial vehicle, agricultural equipment, special equipment, material handling equipment and vessels.
Diagnostics innovations:
– "Filling and purge of the coolant liquid circuit" procedure in engines of Mercedes-Benz Actros 5 (963) and Arocs 5 (964) models
– Replacement of the APM control unit in Volvo and Renault
– TRM Roadtrain module of Knorr-Bremse
– New troubleshooting guides associated with error codes of the EDC 17 CV41 (CNH Group) system
– Advanced functionalities and new technical information in the LIDEC1 system of Liebherr
– Advanced functionalities in BC central computer and new wiring diagrams in Toyota (MHE)
– New brand Yamaha in inboard engine.
– And…much more!
This new version includes the following innovations:
– Quick system scan
– Dynamic display of System Display
– New reception report and signature in GRP
– New Smart guides
– Automatic configuration of the PC IP in systems with ethernet protocol
– Display of all system diagrams of the model
Jaltest Software is the most complete and intuitive multibrand and multisystem diagnosis software in the market.
It allows to perform diagnosis and to interact with the different units with electronic control; following this vehicles classification:
Its design enables the selection of the vehicle type, model and system to be diagnosed in a guided and intuitive way. Its presentation includes easily recognizable icons. Navigate easily through the application obtaining data on errors, their description, frequency and whether they are present or not in the vehicle.
You can simultaneously combine obtaining values and measures with their ranges of reference values. At the same time, you can exchange information with the units, by actuating components and performing the different tests available on the vehicle such as cylinders cutout, compression test, cylinders balance, binary states, etc.
 

212 

BRANDS
5911 

MODELS
26640 

TECHNICAL DATA
28835
DIAGRAMS